Measuring & Fit of BJD Clothing
Each clothing and accessory item has a "Size" section which provides detailed information about the size of that particular garment. To ensure that the items that you are considering purchasing will fit your doll, please take a moment to measure your doll, and compare to the measurements provided.
Don't have a measuring tape? No problem! You can use a piece of ribbon or string (just make sure it is not at all stretchy), or even a thin strip of paper to measure around the doll, and then just lay the string next to a flat ruler to determine the length.
In the image below, Charlotte (my "SD" size model) has graciously agreed to be photographed in her slip so that you can see what measurements I use to give you the "Size" info provided on each item's page. Please continue reading below the image for some details on taking those measurements and also to see the measurements of Charlotte. Information on measuring and fitting footwear is provided at the bottom of the page.
If you have any questions or just feel unsure about measuring, please send me a note and I would be more than happy to help! Also note that in most cases, I am able to adjust the length of things in order to fit your doll, as long as it is not a dramatic adjustment.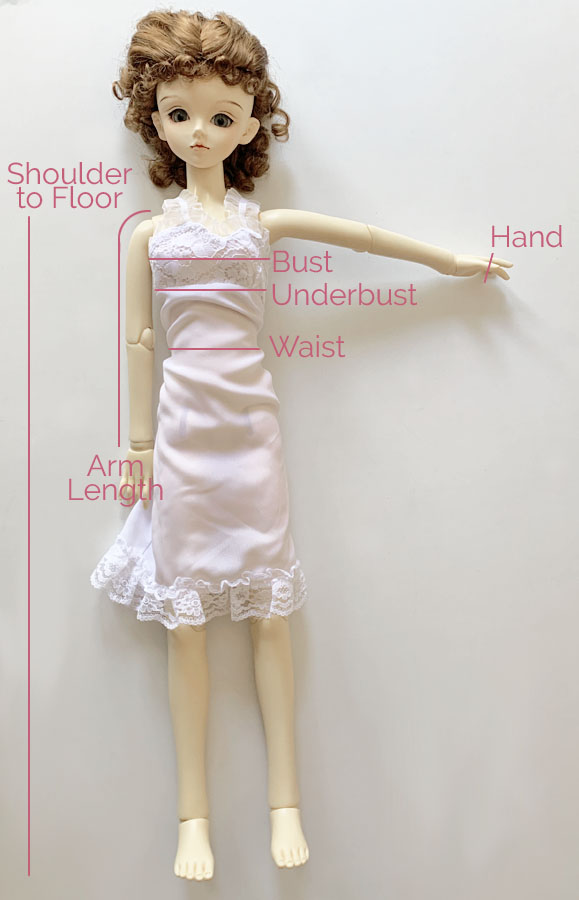 Shoulder to Floor
Charlotte's shoulder-to-floor measurement: 18 1/2" (47cm)
When taking this measurement, you should make sure your doll's feet are nice and flat, and not pointed up or down, as this could impact your measurement. If your doll is standing when you take this measurement, make sure she isn't bending over or bending her knees, which could also cause your measurement to be a bit off. If your doll has a different shoulder-to-floor measurement from Charlotte, definitely send me a message with your doll's shoulder-to-floor measurement, and I will let you know if I can adjust the dress to suit your doll. In most cases, this should not be a problem. . . And it is a free service!
Bust Circumference
Charlotte's bust circumference measurement: 9 7/8" (25.1cm)
For this measurement, you'll want the circumference measurement at the fullest point of your doll's bust.
Underbust Circumference
Charlotte's underbust circumference measurement: 8 3/8" (21.3cm)
This measurement should be taken just under the doll's bust. This is where the "waistband" of a Regency style dress will sit.
Waist Circumference
Charlotte's waist circumference measurement: 7 1/16" (18cm)
This measurement should be taken where the torso is at the narrowest.
Arm Length
Charlotte's arm length measurement: 6 1/2" (16.5cm)
This measurement is to determine sleeve length, and you will want to measure from the shoulder to the wrist, with the arm positioned down at your doll's side. Some clothing styles will have sleeves that extend beyond the wrist, but the "size" info and measurements should still just measure from the shoulder to the wrist.
Hand Circumference
Charlotte's hand circumference measurement: 3 1/2" (8.9cm)
This measurement determines the size of the sleeve opening, so it is important to take this measurement wherever it is largest, as most dolls can not bend their fingers to get into sleeves! Try taking the measurement in a few different places until you find the one that is the largest. Note that if your doll has hands that can be removed, then you shouldn't have to worry about this measurement at all!
Measuring & Fit of Footwear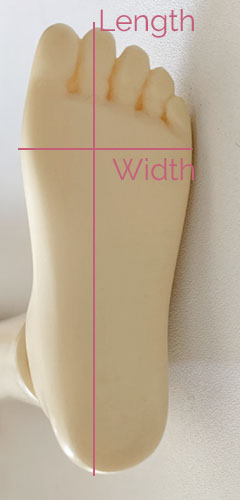 Length
Charlotte's foot length measurement: 2 3/4" (7cm)
You will want to take this measurement wherever the foot is the longest.
Width
Charlotte's foot width measurement: 1 1/8" (2.8cm)
Take this measurement at the part of the foot where it is widest.